The Key to efficient Customer Experience lies in an interactive Customer 'Service'

It is often said that more than the Sale, it's the Service that actually measures the potential of a business to grow and thrive. Jeff Bezos, Founder of Amazon, said "If you make customers unhappy in the physical world, they might each tell six friends. But if you make customers unhappy on the internet, they can each tell 6,000."
Such is the power of customer satisfaction. In this Fourth Industrial Revolution, it is important for businesses to "make a customer, not just a sale", through pro-active customer engagements, personal interactions, and seamless customer service.
Salesforce Service Cloud is the world's #1 customer service platform, enabling businesses to personally connect with their customers. Here at Aress, we have helped businesses get a 360-degree view of their customers, empowering them to deliver faster, efficient and personalized customer experience.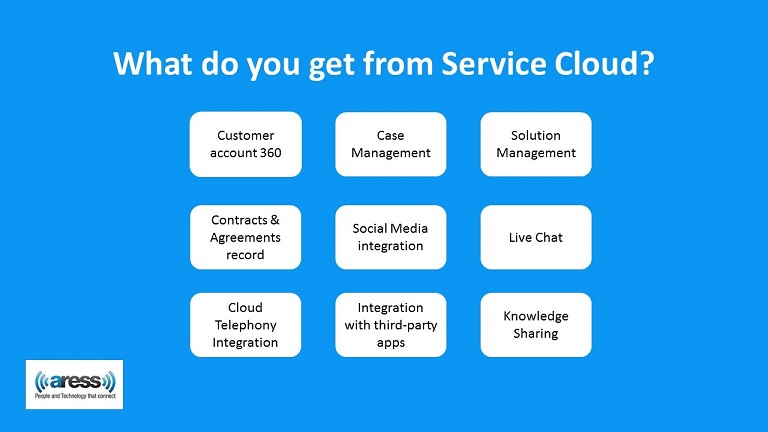 Businesses can tailor customer service journeys using historical record, personal preferences, and even their preferred mode of communication, from social media, text messages, email, and even personal phone calls. Service Cloud helps keep customers engaged and grow your business.
"Salesforce Service Cloud seamlessly integrates with Alexa, bringing customer service to a whole new level where you can issue a service request or manage service cases on your Salesforce just with your voice command!"
Aress has also delivered several Field Service Lightning (FSL) projects. FSL is an extension of Service Cloud to handheld devices such as smartphones/tablets which helps connect on the road workforce. Service agents can update their service cases, check their dispatch status, monitor and report daily activities, all through a simple drag and click functionality on their mobile app.
At Aress, we understand the importance of customer satisfaction, and with the help of our expertise across the consumer services domain, we leverage the Salesforce platform to implement tailor-made Service Cloud instances for our customers. Our team of Salesforce Certified Service Cloud consultants has helped several businesses revolutionize the way they connect with their customers through Service Cloud and FSL implementations. Check out our portfolio on https://www.aress.com/ or email us at info@aress.com
---