Choosing a Salesforce partner: A Game-Changer?
In recent years, Salesforce has reached its peak of popularity in the business world. Being one of the most widely accepted CRMs across the globe, the Salesforce CRM Is a feature-rich product with new features being added all the time with each new release.
But the question here to be thought upon is, how do businesses leverage the maximum of Salesforce's capabilities to help them realize an increased ROI? Can a CEO "effectively" implement Salesforce for his business on his own? Can he formulate a foolproof strategy to come up with the right-fit solution for his business? The answer is yet, but up to a certain extent.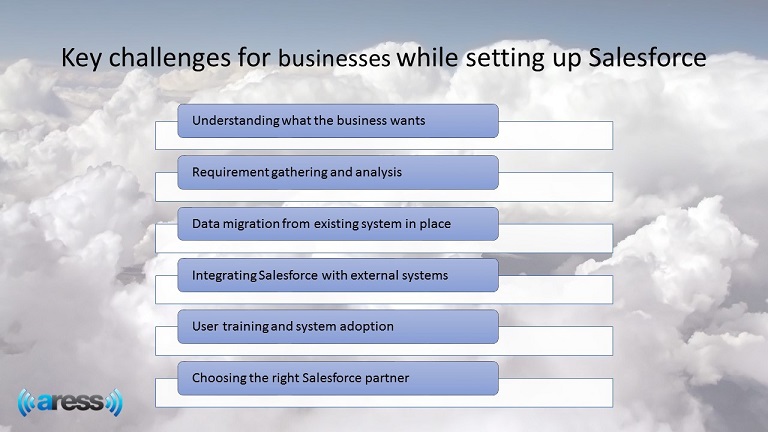 Speaking about the last challenge mentioned above, businesses need to make a judicious choice in terms of selecting a Salesforce implementation partner to help them in this journey and get the appropriate solution designed for the business. Salesforce partners possess industry-deep knowledge and expertise, which are crucial qualities needed for a successful Salesforce implementation.
Although the basic implementation, customization, and setup can be achieved by businesses on their own, Aress helps its customers leverage the capabilities of the Salesforce platform to the fullest by managing complex requirements that may not be clear at the very first stage but pop up in due course of implementation.
Subject matter expertise: With a profound experience of a team led by industry veterans, we guide our clients by suggesting industry-best practices and solutions best fit for the business requirements.
Systematic and planned approach: We ensure smooth delivery and operational excellence by providing an organized and detailed implementation plan.
Hassle-free setup and configuration: With a pool of experienced resources at its end, Aress is able to execute implementation and configuration tasks seamlessly.
Focus on User adoption: We provide our clients with all the information and tools they would require, which can increase user adoption, and thereby, increase the productivity of the business.
Post-development assistance: We make sure that our clients get all the post-sales support they need to help them get on board with Salesforce in the way they want.
24/7 Salesforce support: Further to this, we assist businesses across the globe 24/7/365 on their Salesforce instances, ensuring timely resolution through admin and development related tasks.
To avail more information on how Aress can assist you on your CRM journey, please write to us on info@aress.com
---